JIQ Magazine vol. 25, no. 2 (December 2019)
—

the final JIQ

Dear JIQ reader,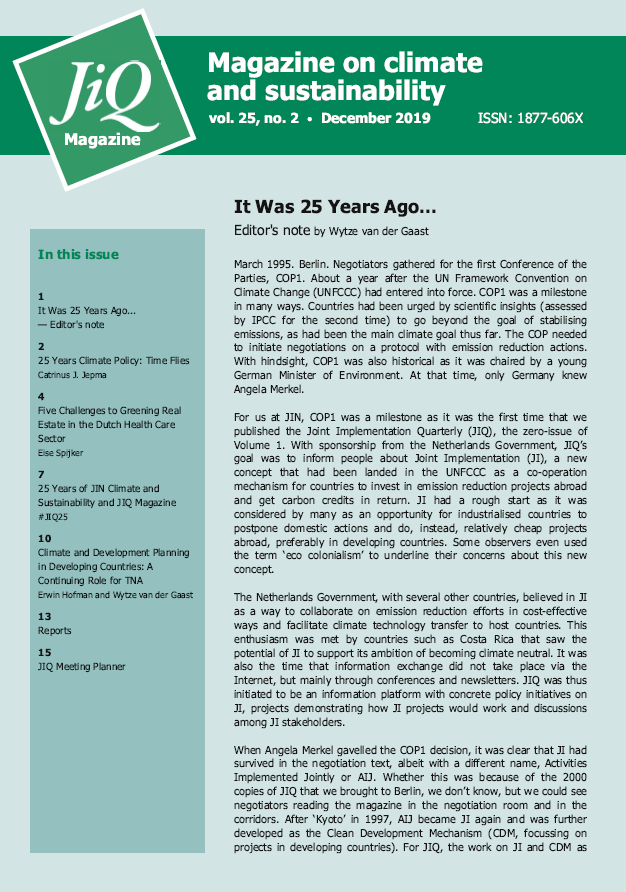 We have the pleasure to present the latest issue of JIQ Magazine (Joint Implementation Quarterly). After 25 years of publishing the JIQ, this will be the final issue, and in addition to a few new articles, the issue also contains a few reviews at 25 years of climate policy, JIN and the JIQ.
It was 25 years ago... — Editor's note
25 years climate policy: time flies (by Catrinus Jepma

)
Five challenges to greening real estate in the Dutch health care sector (by Eise Spijker)
25 years of JIN Climate and Sustainability and JIQ Magazine (#JIQ25)
Climate and development planning in developing countries: a continuing role for TNA (by Erwin Hofman and Wytze van der Gaast)
Reports
JIQ Meeting Planner
The issue can be downloaded here:

JIQ_Magazine_December_2019_JIQ25.pdf2.00 MB
We hope you enjoy reading the issue, and we wish you all the best for the new year.
All the best,
JIQ editors
Catrinus Jepma, Wytze van der Gaast, Eise Spijker and Erwin Hofman